Shed Assembly, from every manufacturer,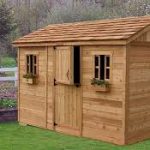 is a strong point for Fraser Assembly. No matter if the shed is a Rubbermaid Big Max, an Arrow Ezee Shed, a Margaritaville or a Quik Shade. We assemble all sheds all across Ontario.
Different Brands – same Company
Some manufacturers use different brand names for similar or identical products. For example, the brands Tommy Bahama, Margaritaville and QuickShade are all distributed by ShelterLogic, an American firm based in New England. Even SOJAG, a well know brand made in Quebec, is part of the ShelterLogic group. Vinyl Murryhill Storage Buildings are also part of this group, under the Arrow label.
Steel vs. Vinyl
Sheds can be distinguished by their principal components: vinyl or steel. Rubbermaid is dominant in vinyl sheds but the Suncast BMS7400 Cascade Blow Molded Resin is also well known. Arrow is well known for steel sheds but does not rank as one of the best metal shed kits Canada. For better quality and easier assembly consider the Billy Oh brand.
Wooden Sheds
Don't overlook the numerous wooden shed manufacturers in Ontario such as Simcoe Shed, Lee Sheds or Hishon Woodworking.  Wooden sheds are typically more expensive than mass produced steel or vinyl models sold in big box stores like Home Depot. But they look better, usually have a floor and are usually harder to break into. They are also easier to decorate with flower boxes, for example.
Before you Start
Before starting your project deal with the basic questions:
How much material do you need to store?

What type is it?

Do you need doors large enough for a wheelbarrow to pass through?

How many items will need to be hung on hooks?

Assemble everything you need to store in one place. Then you can guesstimate how much storage space you actually need.

Where will you place the shed?

How close will the shed be to trees, bushes, other buildings?

Do you have flat ground where you want the shed or will the ground need to be leveled?

Will the shed sit directly on the ground or will you provide some type of base?

Will the base be made of wood such as pallets?

Do you prefer a shed floor made of paving stones or gravel or concrete?

Can you prepare the base yourself or will would you need professional help?
These questions will help you asses material and labour costs of the base alone.
This project is so much easier if planned out well in advance. If you need help with your shed assembly call us.