Gazebo Selection
Your gazebo selection has details will that affect your enjoyment of the gazebo for years to come. Most important is gazebo size.
Gazebo Selection: Size?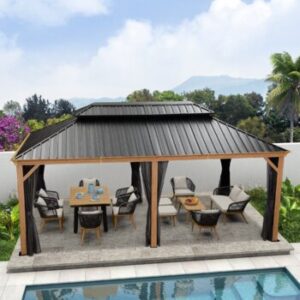 buy the gazebo size to attractively fit into your backyard

buy the largest gazebo to accommodate the activities you plan to use the gazebo for.

For example: to host dinner guests allow 15 sq. ft. per guest. Six guests will need 90 sq. ft or a gazebo 10 x 10 just for the dinner table & chairs.

Three or four lounge chairs for a shady place to read or chat will take up as much space as a dining table.

Although Yardistry gazebos can be as large as 12' x 20' the typical largest gazebo made by other manufacturers is 12' x 12'.

Yardistry 12 x 20
Gazebo Selection: More than one?
If one gazebo will not meet all your needs consider adding another one. Decide how much grass or garden space you can give up for shade. Remember that children will prefer to play on grass or in a sandbox rather than on a hard gazebo floor.

If you purchase more than one gazebo will they be placed side by side? It might make sense to separate them if your backyard is large enough and if the gazebos will be used for different activities.

If you place the gazebos side-by-side remember that rain will fall in the gap between the two. Don't put chairs there.
Gazebo Selection: Location?
How close should the gazebo be to your house? Too close to the house and the backyard view is blocked. The backyard will look crowded. Too far from the house and it's inconvenient for carrying trays of food or beverages to the gazebo. It can be inconvenient running back to the house to answer a door bell or bring out seat cushions..
Will the gazebo be too close to flower beds, a swimming pool or trees that may do damage to the gazebo roof? Or will a position close to the pool or a barbecue fit in with your entertainment plans?
Sightlines
The sightlines to and from the gazebo determine:
what you will see when seated in the gazebo

what you will see when looking from the house to the gazebo.
When looking from the house to the gazebo is the gazebo framed by an attractive view? Does the gazebo help highlight your flowerbeds, shrubbery, trees, etc.?
Similarly, when sitting in the gazebo what will you or your visitors see? Will you be staring at a neighbour's mess? Will you feel boxed in if your view is blocked by a fence?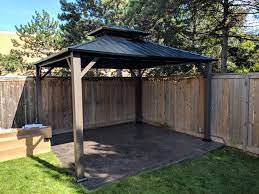 What you can see of neighbour's property may be overshadowed by what you can hear. If the gazebo is close to a neighbor's property will you endure piercing screams of unsupervised children or drunken adults?
Level the Gazebo
The surface that the gazebo sits on matters. The first concern is to anchor the gazebo to protect against high wind. (We've dealt with that in another post). Anchoring the gazebo on a wooden or concrete deck is straight forward. But, on grass or patio stones it may be necessary to drive rods through the feet of the gazebo deep into the subsurface. Our gazebo assembly team will deal with this.
If the gazebo will be on grass, is the surface level? Will guests be seated on an angle?  Will rain water flow through the assembly? If the surface is not already level our gazebo assembly team will deal with this also.
If the gazebo will be on grass, are you prepared for grass cutting around the legs of the gazebo and  your chairs? For this you will need a line trimmer even if you lay a floor on the grass.
Gazebo Selection: Lighting
Enjoyment of your gazebo will be enhanced with deco lighting. Battery lights are an option but hard-wired lights are more durable. For a dedicated circuit and plug(s) near the gazebo you will need an electrician. Contact your electrician during the early stages of your gazebo planning. He will advise how to comply with the building code and how to avoid other buried utilities.
Gazebo Selection: Insect Curtains
If you planning lights remember that evening use of your  gazebo will invite flying insects. Insect curtains are essential.
Gazebo Selection: Gazebo Roof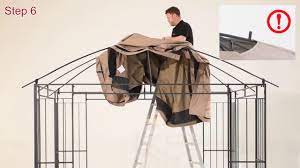 Consider the durability of your gazebo. The weak point is the roof. Exposed to sun, wind, snow and ice a typical fabric roof has a life span of maybe three years. A vinyl or metal roof will last 10 years. Consider this when calculating initial costs. A solid roof will also give better rain protection.